Lollipop holly!
Simply take some green yarn, with three lollipop sticks crisscrossed, and tie them together.
Weave the rest of the yarn up the sticks to make sure they don't budge. Tie off.
Cut out three holly leaves from construction paper and hole punch a hole into the bottoms of each one.
Slip the holly leaves on the lollipop sticks through the punched hole, and take another length of green yarn.
Weave the sticks again, behind the holly leaves, make sure they stay on and tie off. Cut off extra string.
Ta-da! You get holly lollipops!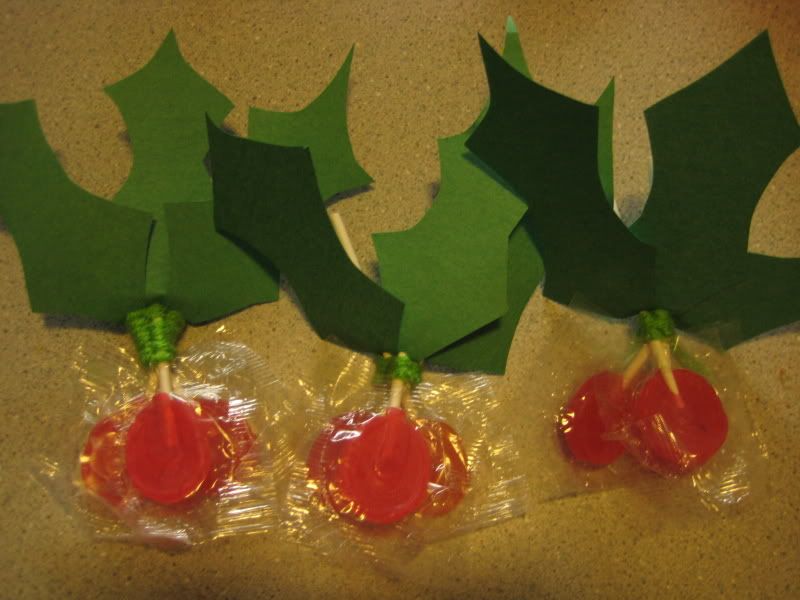 Egg crate surprise balls!
Everyone loves opening presents, big or small, its exciting to see what will be inside. I fill these little egg crates with a hershey kiss and a little note, like a fortune cookie, for the person, but you can get creative. Fill it with confetti, money, earrings, whatever you can think of. Its a recycled and unique little way to wrap a gift.
Cut out egg crate so two bottoms fit together.
Color and decorate the two halves, however you like. I just used crayola markers.
Place a kiss and a note, wrapped around it, inside the egg crate.
Cut a length of red and green yarn (or whatever you wish to tie it with)
Double the yarn.
Hole punch a small tag and write the name of the person on it. Feed onto the yarn.
Make a bow with the yarn, and ta-da! You have a beautiful little gift!